Everyone is always asking, "Where do I start?" when seeking the attention of the media.
You start with your Expert Power Bio!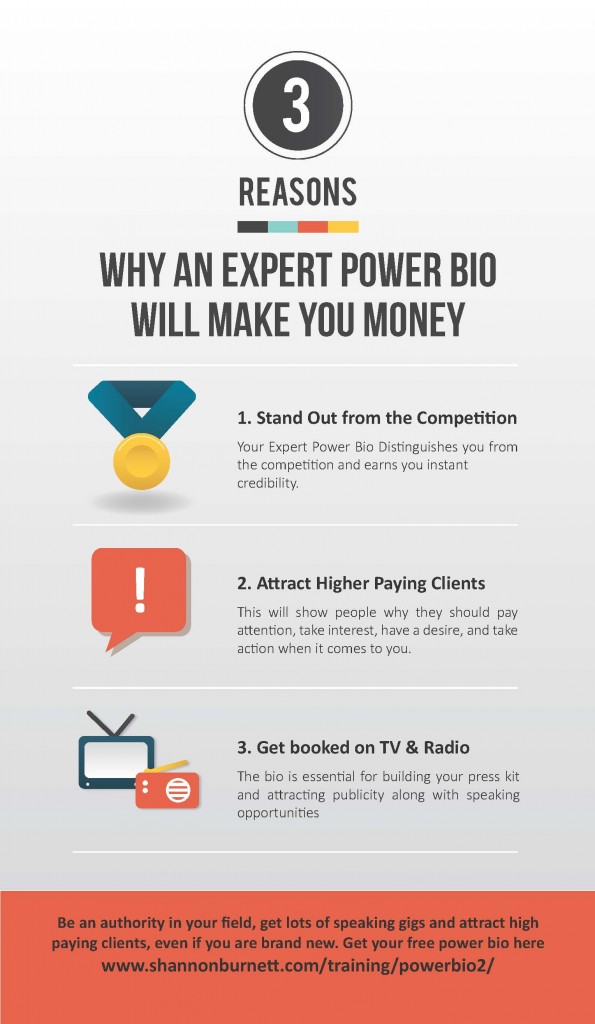 Rather than a resume, it all starts with your bio or what I refer to as your Expert Power Bio.
Here are a few reasons why the Expert Power Bio will make you money.
Stand Out from the Crowd
An expert power bio helps your product or service stand out from the crowd because it offers all the necessary info to your clients about you before making their final decision. It helps them know who you are, your experience in the given field, as well as why they must consider you before all the other experts in your field. With a powerful and influential bio, you get enough opportunity to be original and make yourself stand out even in the most competitive markets. A bio could help you develop an expert status in your industry even if you're just a beginner. As a new business, there are numerous ways to have you positioned as an expert in a very short period of time.
Attract High Paying Clients
The most significant advantage you get by creating an expert power bio is that it greatly boosts your credibility as well as trustworthiness among your audience. As a result, this can lead to more sales and revenues. I have found that if you want to raise the price of your product or services, your target customers will happily accept the price increase since they'll know that you truly deserve the additional investment. Thus, you can easily transition towards the next level without losing any of the trust and loyalty of your clients. Furthermore, a great bio also boosts your odds of finding high- paying clients in the near future.
Get Booked on TV and Radio
The media wants to know who you are and how you can benefit their followers. A good bio becomes very important if you want to gain some exposure through different media channels such as radio, TV, etc. With an Expert Power Bio, it makes it easy to pitch and get the opportunity to show up on these popular shows and magazines to become a well-known authority almost instantly in your field. Also, this allows you to break through all your worries and stresses and finally enjoy a lifestyle which you truly deserve.
At the end of the day it comes down to the fact that people want to know who you are and why they should listen to you.
You can grow your business almost overnight with this essential tool.
What ways are you currently using your bio?
Please comment below with your bio ideas and strategies.
Shannon Gronich
PS Want to become a magnet for higher paying clients?
The most IMPORTANT yet most OVERLOOKED marketing component, get your
Expert Power Bio guide free here: https://shannonburnett.builderallwp.com/training/powerbio2/